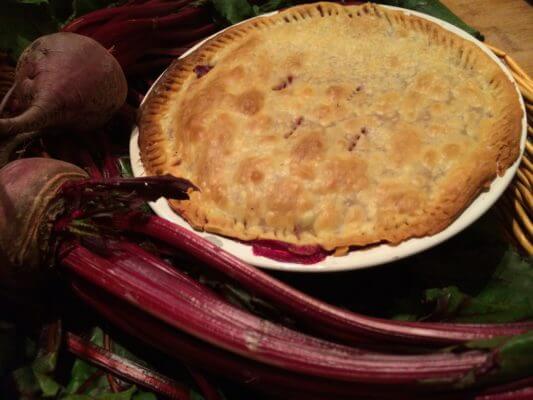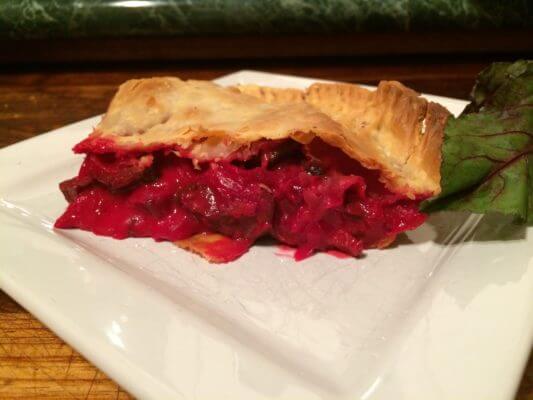 300g Duck Breast or 8 Wild Duck Breast
1 Cup of water
1 chicken stock cube
1 Stick cinnamon
2 Star anise
1 Garlic clove
1tsp Coriander seed or roots of coriander
¼ Cup Dark Soya sauce
1 tbsp Fish Sauce
½ cup of Eagles Blood Shiraz
Place all ingredients in a saucepan (including the duck) Bring to the boil then simmer for 45mins
Strain stock and set duck aside to cool then slice thinly
In the meantime defrost two sheets of short crust savoury pastry.
Grease pie dish then place 1 sheet of pastry in the dish. Blind bake pastry for 10 mins then add the below ingredients
1 ½ Cups of diced canned beetroot
1 Large grated raw beetroot
Sliced Duck
Mix in a small bowl
1 Cup of stock
1 cup of beetroot juice
2 Heaped tbsp of Cornflour
Philadelphia light Cheese if desired.
Pour mixture over beetroot and duck then place the second sheet of short crust pastry on top.
Press the edges down and mark two breather holes in the middle.
Place pie in the oven on 200C° for 30 Minutes
Let cool for 15mins then enjoy your duck pie.
Please let us know how you went following the recipe and what you thought about the pie itself.