Ian's Great Grandfather, Henning Rathjen was born on the 1st of April 1826 in German region of Schleswig Holstein.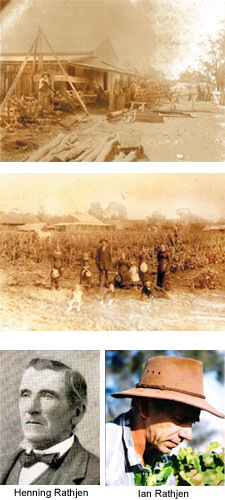 Henning was lured to Victoria by the gold rush in the 1850's, but with only moderate success at finding gold he decided to turn his hand back to farming which he understood.
In the late 1850's the land around Colbinabbin, north of Heathcote, was opened for selection and Henning along with two mates made the trip by horse and dray to Colbinabbin. After the long journey following a rugged bush track the party arrived on the west side of the Colbinabbin range.
The next day Henning awoke early and scrambled to the top of the range. There he was amazed by the beautiful panorama the opened before him, and when he returned to the camp Henning exclaimed, "We have struck Paradise!"
These early settlers worked up to 16 hours a day cultivating the rich and ancient soils of Colbinabbin. In the 1860's Henning Rathjen planted the first Vineyard in the Colbinabbin district.
The Red and white Hermitage vines thrived in the rich red soils of Colbinabbin and his wines won accolades at the local wine shows. The original vines no longer exist, however the structure of the original wine cellar still remains today.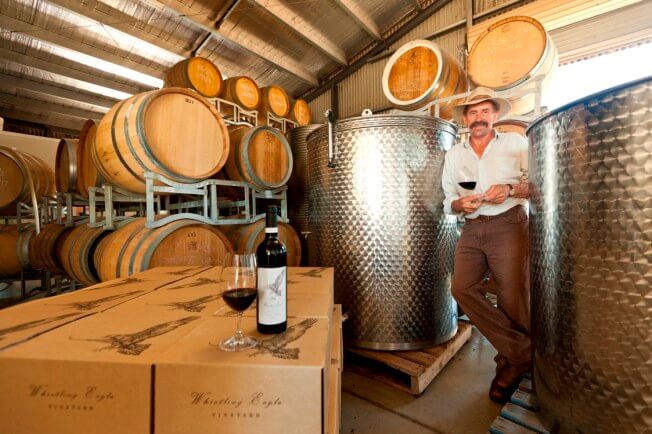 Ian is the fourth generation of Rathjens, to till the rich, fertile soils of the Colbinabbin district. Ian began his forte into winemaking with the first vintage of Shiraz in 1997. The batch size was a mere 10 bottles and since then has grown substantially. The first commercial vintage of Eagles Blood Shiraz was produced in 1999.
Henning Rathjen's vision in the 1850's continues today the family is devoted to its preservation through the creation of fine wines and maintaining natural harmony with the land.  Meet the Rathjens here.